Archive for the 'Evenimente' Category
Afrojack, Armin van Buuren, Dimitri Vegas & Like Mike, Hardwell și Martin Garrix revin la UNTOLD. Impresionaţi de energia voastră şi de atmosfera creată de voi, Axwell & Ingrosso şi Steve Aoki se vor alătura și ei celor 5 superstaruri care au scris deja, alături de voi, pagini numeroase în povestea UNTOLD.
Surprizele pentru voi nu se opresc aici. Multe alte staruri internaţionale a genurilor live acts, tehno, drum&bass, house, vor fi prezente pe scenele festivalului.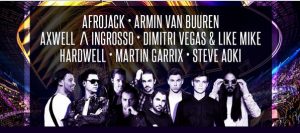 WE ARE THE PEOPLE!
LINE UP:
FATBOY SLIM
THE PAROV STELAR BAND (live)
NETSKY (live)
SUB FOCUS
NOUVELLE VAGUE (live)
THE SUBWAYS (live)
THE CAT EMPIRE (live)
MODESELEKTOR + SIRIUSMO (live)
RONI SIZE REPRAZENT (live)
HIGH CONTRAST
ASIAN DUB FOUNDATION (live)
DUB PISTOLS (live)
GUTS (live)
JAN BLOMQVIST (live)
DC BREAKS
DUB PHIZIX & STRATEGY
SUBCARPATI (live)
JAH SHAKA
B.TRAITS
SHIVER
EVIL NINE
VADIM & YARAH BRAVO (live)
COSMIN TRG
SUIE PAPARUDE (live)
SOOM T & JSTAR (live)
MAD PROFESSOR & BROTHER CULTURE *live)
VAKULA
ISHOME
RADIKAL GURU
PRINCE FATTY & HORSEMAN (live)
ELIPHINO
BENNY PAGE
XXXY
SYNKRO
BAMBOUNOU
POP KILLERS
FRENCH FRIES
BUSH CHEMISTS & KING GENERAL (live)
D/R/U/G/S
IRATION STEPPAS (live)
PIXELORD
THE MODEL
DUBASE
DJ SAUCE
DUDAWLESS
ALEX CHRONIC
ZERZAJAH
LAZY FACE
SERIOUS DUB
SELECTA DROO
IV-IN
DETOUR
SYL
CANS
NDJ
BLANILLA
MISILLE & GORANGA
IRIE WARRIORS
KAYA FOUNDATION
KAZE
INJEKTAH
NEWGOTTI
DIGITAL SELEKTA
ZO
RAPS
UFE
GENERAL ESCU
LAZIO
SISTA RASTA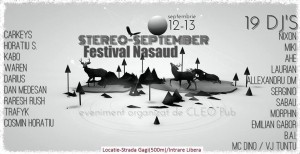 Stereo-September (Festival Nasaud)

Vineri si Sambata (12-13 septembrie) in Nasaud str: Gaci (aproximativ 500m de la strada).

Este primul festival din Nasaud care a mutat muzica electronică din masina ta, casa ta, localul tau, ipodul sau "mini casetofonul" tau in aer liber pe o scena cu un sunet puternic sub lumina reflectoarelor si a laserelor.
Evenimentul incepe vineri 12 septembrie la ora 19:00 si se va incheia duminica 14 septembrie:)
DJ's – LINE UP (main stage)
CARKEYS (deephouse/tech)
HORATIU S. (deephouse/tech/trap/techno/dubstep)
KABO (deephouse/tech)
WAREN (dub/DNB)
DARIUS (techhouse/techno)
DAN MEDESAN (electro/progressive)
RARESH RUSH (tech/house)
TRAKYK (house/electro)
COSMIN HORATIU (techhouse/techno)
NIXON (techno)
MIKI (techno)
AHE (dubstep/ghettofunk/funky/oldschool)
LAURIAN (deeptech/deephouse)
ALLEXANDRU DM (techno)
SERGINIO (deephouse/tech)
SABAU (deep)
MORPHIN (minimal/techno)
EMILIAN GABOR (disco/nu disco/nu funk/indie/electroindie/postpunk/synthpop
B.A.I. (deephouse/vocal/deeptech)
MC DINO (prezentator)
VJ TUNTU (proiectare video)
PARTENERI
-TUBORG
-AXA
-DEFAPLAST
-DIMEX 2000
-MEGAPARK
-PIKOWATT
-ARMYOFPAINTBALL
Intrarea este gratuita sau se poate dona o carte sau o jucarie (noua sau second-hand) pentru casa copiilor din orasul Nasaud.